Map of Tea Tour 2009 showing Shanghai, Hangzhou, Houkeng, Huangshan, Tangmo, Tunxi, Qimen and Hongcun.
I'm just back from a tea study tour of eastern China, where I had the privilege of visiting all sorts of tea farms and speaking to 'tea heroes' about their lovely teas and, along the way, I got to enjoy unforgettable sights, smells and tastes. I also got a chance to live as a Chinese person does, experiencing a simpler, more fulfilling lifestyle … washed down with gallons of fresh green tea!
I met so many wonderful, friendly 'tea people' during my month in China I cannot write about all of them, but in the next few blogs I shall share as many pictures, videos, experiences and thoughts or ideas about tea as I can.
Starting off in the incredibly scenic city of Hangzhou, we drove southwest into Anhui province, through fairytale hills full of plum, peach and guava orchards, tea bushes, and sandalwood and mulberry trees for feeding silkworms.
Mountainous region of Anhui. In the distance, is a mountain of round tea bushes.
This legendary region is famous for producing traders and adventurers over many centuries. Its landscape inspired numerous artists and also the myths of the Water Margin. I couldn't help but think of the 108 heroes and rebels, like WuSong who saved a whole village and killed a man-eating tiger even though he was drunk. This beautiful area, with its bamboo-forested mountains, its green valleys and spectacular lakes and cliffs, has been the setting for many classic films like Crouching Tiger Hidden Dragon.
You can find about thirty varieties of tea plant in Anhui, each subtly different from the next. Often, the higher a tea bush is up the hillside, the older the bush will be, benefiting from purer air and water and a more subtle light, producing the most nutritious tea leaves with particular high levels of amino acids. It is these amino acids that gives the premium green teas what the Chinese and Japanese call "sweetness", better called "umami" which really is the fifth taste after sweet, sour, bitter and salty.
This is the remaining ruins of the Xu family ancestral hall following the destruction during the cultural revolution. It was very poignant for me since my mother has the same surname. As I walked through the ruins, I imagined what it would be like for a possibly prosperous ancestors of my mother coming here to pay their respects.
We chose to do this tea study tour in April/May to coincide with the spring harvesting season. Spring harvested tea is considered the best by all accounts because the first flush of tea leaves are the most nutritious since the tea bushes have had an entire winter to rest. Also, as the weather is still slightly cold, there is little need for tea farmers to use any pesticides since the worms and bugs are still hibernating.
Anhui is scattered with beautifully preserved, still inhabited, ancient villages. In one of these, I discovered what appears to be the ancestral home village of my mother's family. This was a Huizhou village called Tangmo (唐模) which at its peak was given the honoured status of 'model village' by one of the Tang emperors. My mother has the surname Xu 许 and everyone in Tangmo bore this surname too, and their descendants then spread out over the world, in my mother's case as far away as Singapore. The ancestral hall looks rather like a Roman villa, and it would (but for the devastation of the Cultural Revolution) contain the entire history and records of the Xu 'tribe'. It was very moving for me to see the ruins of the compound and to imagine my ancestors being on the same spot paying homage to their ancestors.
The Tangmo village was given the royal status because of filial piety stories such as this one. A son turned some of his farm land into a miniature version of the famous West Lake of Hangzhou so that his ailing mother can fulfil her last wishes without leaving her deathbed.
At the entrance to the village stands a 1,400 year old 'living fossil' gingko tree or 'maidenhair'. Gingko and cedar are both known for their ability to repel mosquitoes, and they were often used as building materials all over China. In the centre of Tangmo is a sandalwood tree, so ancient that it is believed to bring good health to those who are sick. Villagers had tied many silk strips to its branches, displaying the names of their sick and aged relations. A visiting film director once saw this tree's resemblance to a mouth, so made a movie about a silk weaving fairy in which the tree comes alive and plays the role of a matchmaker.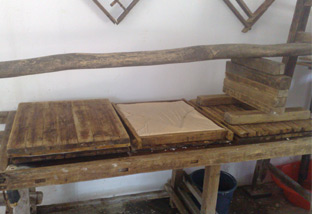 We found this little tofu store making and selling hand-made tofu blocks and soy milk drinks. The is an overwhelmingly sweet aroma of the soy bean. We bought some very delicious soy milk from the tofu master but it was ashamed he only makes tofu in the morning so we did not get to see him make tofu that day.
I then was shown a miniaturised version of Hangzhou's famous West Lake, dug by a Tangmo farmer so that his mother could step out of her house and enjoy some of the beauty of the actual lake which she was too infirm to ever travel to. Though much smaller than the original, it's still pretty huge. It took him three years!
Walking through the ancient streets of Tangmo I passed a shop emitting a strong, sweet aroma of soya beans and I just had to enter to have a look. I bought some lovely, fresh home-made soya milk made there in the shop. And there were some intriguing and ingenious tools there too which were clearly for making tofu, although it was too late in the day for me to see them in action.
After Tangmo I visited the ancient walled city of She Xian, whose long shopping street has been a hub of commerce for two millennia. I then journeyed further south, to have encounters with 猴魁 Houkui (Monkey Pick) green tea in the area known as Houkeng (猴坑 Monkey Pit), 祁红 Qihong (Keemun) black tea in Qimen (祁门) county, 松萝 Songluo green tea in Huangshan (黄山) City and 毛峰 Maofeng green tea Xi (歙) county. At the end I returned to Hangzhou to sit my exams to become an accredited tea artisan and tea assessor. More about these tea adventures soon!
Warmly,
Pei
pei@teanamu.com
~~ sip a good brew, steal a slice of tranquility, glimpse a lingering fragrance, gladden the heart and refresh the mind ~~