The
Queen Elizabeth Coronation High Tea
at the royally fabulous
Tea Cosy Tea Room
in Brighton.
Last week I became a Notting Hill Carnival refugee in Brighton. It was not my obvious choice – knowing that with good weather the whole world will flock to the coast – but I got a good deal on the hotel and train (do shop around as I only paid £10 return from London Victoria plus £1 admin fee) so Brighton it is that I escape from the carnival chaos.
I stayed at The Brighton House (52 Regency Square) owned by Christine, Lucho and Mr. Watt (the cat). Service was very prompt, friendly and generous and I have been made to feel very welcomed. Now the breakfast served by them is to die for! It is a perfect example for other B&Bs that it only takes a little loving attention to provide a very good breakfast. Nearly everything on the buffet is organic and sourced locally. I particularly like the soft boil eggs (which tasted so fresh and just like the eggs laid by my 2 hens) and the lashings of smoked salmon. The inclusion of organic goji berries as sprinkle at the cereal bar immediately won me over. I must have spent at least an hour and a half every day slowly devouring the delicious spread.
The Tea Cosy Tearoom Etiquette

The unsavoury habit of dunking biscuits is strictly prohibited and will result in you being asked to leave.

There is a correct way to hold your cup and saucer. Pick them up together – holding the saucer in one hand and the cup in the other. Hold the saucer under your cup while you sip your tea (lest you should spill or dribble).

When stirring your tea, kindly refrain from clinking the sides of your cup. Gently swish the liquid back and forth being careful not to touch the sides of your cup if possible. Please ensure you introduce a little milk or cold water to your cup before pouring your tea to prevent cracking of the China.

Guests are invited to adopt correct posture and avoid resting elbows on your tables.

Conversations should never be louder than two tones above the clink of a teacup and good table manners are expected at all times.

As a display of respect, guests in residence at the stroke of 4pm on Sundays are required to rise for the national anthem, followed by three cheers for Her Majesty Queen Elizabeth. Un-cooperative guests will be promptly issued with their bill and escorted from the premises (Disabled and infirm exempt).
I may have watched too many episodes of the Hotel Inspector and have acquired the same beady eyes as Alex Polizzi but I have to say there are not many things I can fault with my stay at The Brighton House. The hotel is conveniently located from the shingle beach (2 minutes walk) and Preston Street (2 minutes) which I shall refer to as the "ethnic street" that house restaurants from various continents. At the end of this street near the coast is a very big friendly Chinese restaurant which produces mediocre dishes despite being the local's favourite. If you are missing the standard high street offerings, there is always the Churchill Shopping Mall (5 minutes) but if you are like me, you will want to spend time browsing quirky shops in the Lanes and the North Laine (15 minutes).
The scrumptious breakfast spread put out by
The Brighton House B&B
. Not seen in this picture is an equally delicious cereal and yoghurt bar packed full with different kinds of fresh and dried fruits including goji berries.
Now this being a tea blog, I have to mention The Tea Cosy Tearoom owned by Jackie, her daughter (head baker) and son-in-law (techie working on their eshop). With a logo in the form of a crest of (the Unique, the Complex and the Extraordinary) Diana and Dodi and a shop window packed full of things from the good ole days, I simply had to pop my head into the shop and before I know it, I am in the tea room looking at all the crockery that had been attached to every single available spot on the walls and ceiling.
This royalty-obsessed teahouse harps back to the days of sugar tongs, china teacups, and lifting the pinkie when slurping your tea. The whole place is decked out magnificently with Charles and Diana memorabilia (including a sticker of Charles and Camilla on a loo seat), a pianola with a mind of its own, paintings of the royal family and a bizarre cabinet of knitted creatures. You could easily spend an afternoon here on your own, letting your gaze wander form the Cliff Richard plate clock to signed photos of Dot Cotton and semi-nude picture of Barbara Windsor in the style of Carry-On films. For a Singaporean, this tea room is fantasically over the top royal and English!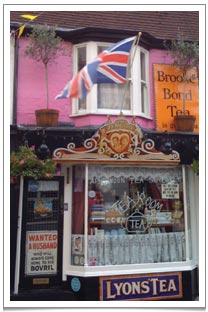 Expect a room packed full of memorabilia of the Royal family and all things quintessentially English at the Tea Cosy Tearoom on 3 George Street in Brighton.
I just fell in love with the whole experience of being in The Tea Cosy. When I first walked into the room, I was really worried that my clumsiness might lead to some disasters. However, as soon as I sat down, the background Swing and Big band songs (which will make David Jacobs of Radio 2 proud) and the beautiful crockery made me felt at ease with whatever Englishness that is in me! This is exactly how I would (and no doubt many foreigners in the Far East still do) romanticise about the tea drinking culture in UK before I came here.
As with many Afternoon tea offerings, the emphasis is not on the tea but on the food – although Jackie told me that she is looking into expanding her offerings to include teas from the Orient. There are 3 high tea options, I went for the Queen Elizabeth Coronation High Tea which at £11 per head is a bargain. On the three-tiered cake stand are sandwiches of the coronation chicken, egg mayonnaise and cucumber variety – all with their crusts cut off. I also get a generous slice of delicious pate with white Melba toasts and potato biscuits.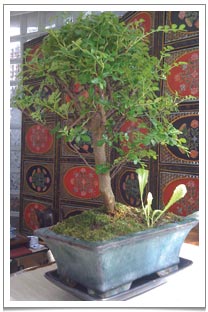 The beautiful Sancho Pepper bonsai that I bought from Eric of
Bonsai Ko
in Brighton.
For the sweets, there is a thick slice of Victoria sponge, chocolate brownie with a crunch, a mini fairy cake, a chocolate éclair and the obligatory scone with jam and whipped cream. According to Jackie, all the cakes are baked by her daughter and they have plans to sell them on their website. Most of the items are yummy except the éclair which is a bit soft for my taste and a very slight disappointment that the scone is not warm. Having said that, the spread and the ambience at that price is really good value for money and unpretentious.
All the items on the menu are named after members of the Royal family which still make me chuckle. There is the William & Harry's Tea consisting of a selection of homemade biscuits and a pot of tea (£3.50) and the Charles & Camilla Elevenses of toasted teacake served with homemade jam and tea (£4.95). There is also the Queen Mother's Cream Tea with 2 fruit scones, cream and homemade jam served with a pot of tea (£5.95) and Queen Victoria Tea with smoked salmon and cucumber, ham and mustard and cheese and chutney sandwiches, a slice of Victoria Sponge with a pot of tea for one (£6.95).
In addition to the Queen Elizabeth High Tea which I had, the Tea Cosy also serves Princess Diana's Memorial High Tea with a selection of cakes and sandwiches comprising of smoked salmon, cheese and chutney and cucumber, served with biscuits and cream tea with unlimited refills of the tea (£10) and with at least 48 hours notice, Jackie can also serve you their Fergie's alternative High Tea that is Gluten/wheat/dairy free selection of cakes and sandwiches comprising of cucumber, smoked salmon and tomato with basil sandwiches, bite-sized meringues, fruit scones with jam and tea (£12).
The very interesting Bert's Homestore – Brighton's very own Cath Kidston of sweet little old ladies styled items.
At the Brighton House B&B, I found a tourist guide to Brighton which detailed the tea etiquette (also found on their website) expected at The Tea Cosy tea room. Although meant to be tongue in cheek, I would very much like to believe that etiquette such as the one involving the volume of conversations not being louder than two tones above the clink of a teacup is still being "enforced".
During the heavy downpour on the bank holiday Sunday afternoon, a friendly local at the café where I was seeking shelter said as a matter of fact that "it is to be expected so mustn't grumble!" Despite the rain, Brighton is no doubt a happy place for me. I thoroughly enjoyed visiting the quirky shops in the lanes and friendly banter with the shop owners.
Not all the shops are my cup of tea but I did fell in love with the ethnic grocer Taj – a mecca for cooks like me (95 Western Road and 13 Old Steine), Bert's Homestore – packed full of country style little old ladies houseware, Real Pâtisserie for their delicious pain aux raisin and cinnamon swirls and their attractive smiles and Aloka Aura-Soma for their delicious raw foods and swanky shop front.
The one shop most worthy of mention is the humble bonsai expert Eric Danot who was introduced to me by Mike (twitter: @Di9it8). Eric owns the beautiful bonsai shop Bonsai Ko for 20 years. I was bowed over by all the beautifully cultivated bonsais in his shop and I am now a proud owner of an edible Sancho Pepper bonsai.
So the next time you are feeling a sense of ennui with the same old shops and streets in London, remember that Brighton is only a short train ride away.
Warmly,

Pei

~~ Serene and fragrant TEA entices with promise of rapture in STORE ~~