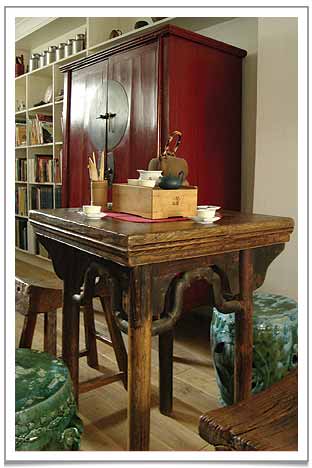 teanamu
Chaya Teahouse
opening in
February 2011
.
2010 has been a very eventful year, full of spontaneous encounters and unlooked-for connections, and I have shared many a cup with tea-loving friends, old and new. I have often been amazed by the intricate workings of fate over the past year or so.
It was through a chance meeting with Kavey (@kaveyf) that I came to know the UK Food Bloggers Association (UKFBA). Through the UKFBA I had the chance to twice host a market stall at Covent Garden, and it was there that I met Gemma (@Boutea) who in turn has been so kind as to introduce many new tea friends to me.
Some of those were students who came to a teanamu Tea Open House and subsequently got chatting at a London café with the tea poet Elizabeth Darcy Jones, who was garnering inspiration for her forthcoming book of tea poems 'Distinguished Teas: Poems for Tea-Lovers' (available in late spring). They nudged Elizabeth in my direction, she in turn checked out this website and she became particularly intrigued by the characterful Emperor Pu Erh 1998 and we become friends through our common fascination with this tea.
I've made other fond friendships too, in the course of 2010. Through tea, beautiful friendships are made!
My 2010 was filled with many, many chance meetings like these made possible through random acts of kindness, and I have simply loved meeting people from all walks of life who have come to the Tea Open Houses and the Masterclasses – often braving the elements! – to enjoy and learn more about tea.
I shall look back on the year thankfully, while 2011 promises more exciting things to come.
After years of dreaming, rehearsing and planning, teanamu is to have its own Chaya teahouse as of 26 February 2011. We're busy creating a calming, restful teahouse space where you can refresh yourself, re-balance and de-stress – like pressing the 'pause' button. In this lovely, serene setting you'll enjoy delicious, artisanal teas brewed by the traditional, meditative, gongfu cha ritual method. As a further treat there will be very special, homemade pâtisserie and gorgeous little savoury, oriental snacks.
We also have lined up many more Tea Appreciation Masterclasses and more frequent HaveTime.DrinkTea free tastings, plus brand new Specialist Classes to share our love for the more intriguing, exotic oolongs and pu erhs. The schedule is displayed in our new Events Calendar.
Let's all raise "the cup that cheers but does not inebriate" to usher in a fantastic New Year for one and all!
Warmly,

Pei

~~ Serene and fragrant TEA entices with promise of rapture in STORE ~~