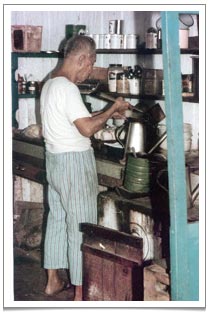 A very old picture taken in the early seventies of my dear old grandpa brewing tea in his Hainanese coffee shop (in Pontian Kerchil, Malaysia) using the 'gou cha' (沟茶 'channeling' tea) method.
I blogged about the Yuan Yang Coffee Tea beverage recently and about the creamy pulled tea and masala chai. That, and chats with fellow Singaporean Charles (@HotelPRGuy) at Chaya Teahouse about all the nice food and drink we enjoy back home, have made me crave after milky teas.
I grew up with strong black tea, made from a blend of Indian and Malaysian teas, with a big dollop of condensed milk or a couple of tablespoons of evaporated milk. It wasn't just a soothing drink for me but also a nutritious beverage that would stave off any hunger pangs for an hour or two.
So to indulge in this reminscence, I want to look into the various form of milky teas prevalent in the Far East.
My maternal grandfather used to own a coffee/tea shop called "Qiong Yuan Xiang" (琼源香) in the Malaysian village of Pontain Kerchil (the shop has now relocated and is run by my youngest uncle at a different site) in the state of Johore. I recall with delight the delicious thick milky tea that my Grandpa brewed for his customers.
Silk Stocking Tea
(to make 2 small mugs)

2 tblsp teanamu rose congou
1 tblsp teanamu organic golden monkey
A few dried jasmine flowers
150ml of boiling water
Additional boiling water for dilution
1 tblsp condensed milk per mug, or to taste

– put the tea leaves and dried jasmine flowers
in a tea bag or straight in a mug.
– pour the boiling water over the tea leaves and
dried jasmine flowers.
– Leave to infuse for 2-3 minutes before removing
the tea bag or straining the leaves.
– dilute about 3-4 times with more boiling water.
– slowly stir in the condensed milk.
– perfect for butter on toast with a bit of Kaya.

His tea brewing method, common in many Hainanese coffee/tea shops, was slightly different to what we are used to now. He used a cotton cloth conical sieve (about 30 cm long with a 10 cm opening) and into it put a great big scoop of CTC black tea powder. This was then steeped in a stainless steel pitcher of freshly boiled water for a good 5 minutes. The tea was then re-infused several times to create an additional amount of thick tea called 'cha dan' (茶胆 tea 'gall'), which was kept warm over a wood-fired stove until required. It was diluted about 5 times before the addition of condensed or evaporated milk.
This method of brewing is called 'gou cha' (沟茶 'channeling' tea). The hot tea is very smooth, aromatic, creamy and sweet. It has a slightly thicker viscosity – almost like pure cream. The slight acerbic taste of the tea is nicely balanced by the creaminess.
It is however, the aroma of the cream tea that I remember most fondly. Holding a small ceramic cup with thick sides in my small hand, I would often simply stick my nose in and stir the tea with a teaspoon to smell the liquor and listen to the clinking sounds made by spoon on the cup. I also remember that wonderful feeling of calm, warmth and settling in my little stomach. I usually drank this with a Kahwin ('marriage' in the Hokkien language) sandwich – a thick slice of white bread, freshly toasted over a smothering charcoal fire, skilfully cut into two and opened up like a book. On one side of this 'book', I'd get a thin spread of butter or margarine and, on the other side, a thick glob of kaya coconut egg custard.
The tea powder would be made from a blend of teas created by my Grandpa. Every coffee/tea shop would have their own concoction to capture the hearts of their customers. While the flavours of these concoctions were relatively similar, there were subtle nuances to differentiate them, and many customers would swear by and be staunchly loyal to the particular tea of their favourite coffee/tea shop.
I later learned that in Hong Kong some tea shop owners use a similar method, which they call 'siwa naicha' (丝袜奶茶) meaning Silk Stocking Milk Tea. This rather unusual name came about because the white cotton sieves turned into a light brown colour just like a pair silk stockings. Or perhaps the name came about because the milky tea is so silky smooth! There are rumours that some tea shops actually use real silk stockings as filters! But I doubt that it is true as it must be rather cost prohibitive!
For me, a good cup of milky tea doesn't simply mean higher proportion of milk. One must strike a point where the creamy sweetness of the milk complements and brings out the aromas of caramelised, slightly tannic, black tea. Sometimes, a small pinch of salt can add an amazing backdrop to the sweet cream and caramelised tea.
Warmly,

Pei

~~ Serene and fragrant TEA entices with promise of rapture in STORE ~~