Ba Bao Eight Treasures
£9.00
A stunning mix of whole, uncut fruits and flowers, to enjoy sipping for hours as the flavour profiles subtly evolve.
Tisanes & Herbal Infusions
Ba Bao Eight treasures is not the 'flowering tea' you may have heard of, but something much more special. Essentially it is an infusion of fruits or flowers, or both, the only requirements being that there are eight ingredients ('treasures') and that, in combination, they make a delicious, beautiful and healthy tisane.
Ba Bao Eight Treasures, brewed in a beautiful glass teapot or glass cup, may be our best loved item at Chaya Teahouse. It has delighted
bloggers
and put smiles on many of our tea friends' faces. We make four versions, to reflect the seasons of the year, and of course they can be adapted to individual tastes and needs. As you will imagine, there are also regional variations to the recipe.
At Chaya we only use whole, uncut fruits and flowers. First the flowers release their flavour, one by one, and then the sweetness of the fruits follows. You can sit with the tisane all day, adding water, and the flavour profiles shift as the hours happily pass.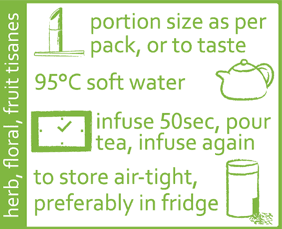 You may also like…
Beautiful, healthy and delicious whole flower infusions with such delights as chrysanthemum, forget-me-not and honeysuckle.