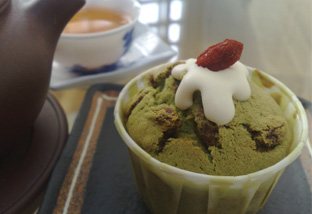 matcha and goji berry cupcake
We are hugely excited to announce the launch of teanamu e-store on THURSDAY AUGUST 20 and we are celebrating that day with a public appearance at Covent Garden Market.
Come taste some delicious tea pâtisserie and tea cuisine and have a chat with us.
MENU FOR COVENT GARDEN MARKET STALL – AUGUST 20 Noon-8pm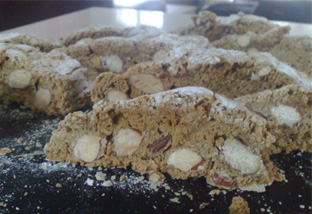 white tea cantuccini with almonds
Trio of Tea Patisserie
A trio set of tea patisserie: oolong madeleines, matcha shortbread biscuits and white tea cantuccini.
Oolong madeleines – gorgeous and buttery, decorated with black and white sesame seeds.
Matcha shortbread biscuits in the shape of plum flowers, topped with yellow icing.
Cantuccini, almondy with a delicate aroma of white tea.
matcha butter biscuits
Goji Berry Matcha Sponge Cupcakes
Moist and delicious cupcakes filled with goji berries and delicate matcha green tea; both ingredients are packed full of anti-oxidants!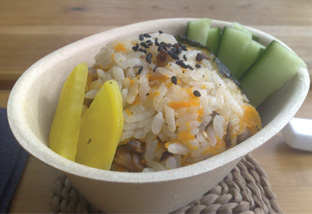 tea rice onigiri with shitake mushroom and miso soy filling
Onigiri Sencha Rice Balls with Shitake Mushrooms and Miso Soy Filling
Rice balls made with Japanese sencha green tea, sesame-infused shitake mushrooms and carrots, and a miso soya mince filling, wrapped in nori seaweed, and served with cantonese-style cucumber pickle and a radish pickle.
The patisserie will be on sale all day from 12 noon to 8 p.m. We will be producing the onigiri rice balls from 12 noon to 2 p.m. or as long as stocks last!
We'll also be offering some of our diverse range of excellent, delicious, premium teas at a discount to their usual price.
And come and see us again at Covent Garden on Thursday September 17!
Warmly,
Pei
pei@teanamu.com
~~ sip a good brew, steal a slice of tranquility, glimpse a lingering fragrance, gladden the heart and refresh the mind ~~