SPECIAL NOTICE REGARDING THIS PANDEMIC
Afternoon tea sessions and tea classes at Teanamu Chaya Teahouse will sadly be temporarily suspended until we are able to guarantee a safe space for our tea friends.
In the mean time, our ONLINE TEA SHOP continues to deliver teas and tea sets to our tea friends.
We are also launching a special online TEAS IN THE CLOUD BREW-ALONG TEA MASTERCLASS where you can still join our very popular TEA LOVER'S MASTERCLASS from the comfort of your home and be able to brew teas with a special tea set for you to keep after the class. You can also buy or eGIFT CARDS or GIFT VOUCHERS for our tea classes. You can also gift the gift of personalised TEA CLUB SUBSCRIPTION. Stay tuned!
AFTERNOON TEA AT TEANAMU CHAYA TEAHOUSE
SAMPLE AFTERNOON TEA MENU
We serve teas using the Chinese Gongfu Cha tea ceremony as part of our afternoon tea set menu ichi-go ichi-e. All our food items are freshly made and vegetarian. We do not use alcohol in our food.
ichi-go ichi-e afternoon tea for one  (£30)
pot of tea or tisane
wakame seaweed brown bread open sandwiches
:- garlic miso-pickled cream cheese with cucumber & shichimi pepper -:
:- kumquat ginger preserve and mature cheddar -:
:- chilli bamboo shoots on egg mayonaise -:
dim sum
:- lo mai fan lotus leaf rice parcel -:
:- vegetarian dumplings with sze chuan chilli oil -:
sweets and pàtisserie
:- snow skin marzipan with guava -:
:- szechuan peppercorn & peanut honeycomb -:
:- bitter chocolate tart with bitternut crackers & hawthorne slice -:
:- olive oil lemon cake with mango curd -:
:- warm scone with clotted cream & rose petal jam -:
~~~ payment is by cash only at the moment ~~
~~~ service charge 10% ~~~
Come Visit Us
4 Melina Road
London,
W12 9HZ, United Kingdom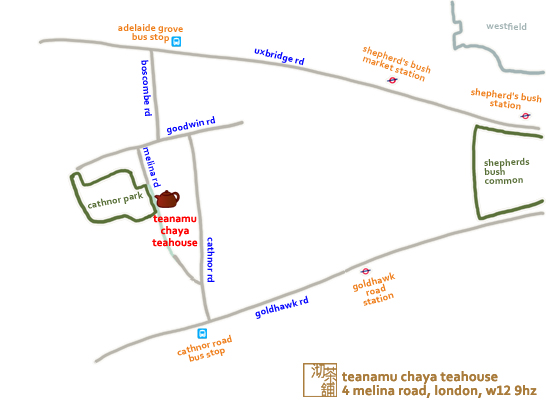 Teanamu Chaya Teahouse is located in one of the four pre-war worker's cottages facing the Cathnor Park. Look out for the house with the yellow door and the wooden "teanamu chaya teahouse" sign.
The nearest tube station is Goldhawk Road station (Circle Line & Hammersmith and City Line), less than 10 minutes walk away. Shepherd's Bush station (Central Line) is about 15 minutes walk away. Click here to check status of London Underground.
The local bus stops are Cathnor Road stop (on Goldhawk Road with bus 94 and 237) and Adelaide Grove stop (on Uxbridge Road with bus 207, 228, 260, 283 and 607) and there is meter parking in the vicinity (free on weekends) and bicycle racks in front of Cathnor Park.