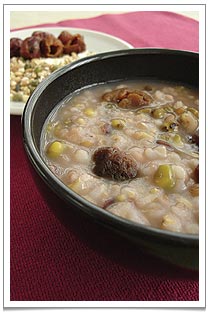 A sweet and nourishing La Ba congee 腊八粥 to usher in the new year!
Next Tuesday – 11 January – is the eighth day of the last month of the year according to the Chinese lunar calendar. In this day, which is roughly 3 weeks after the winter solstice, many Chinese celebrate the "La Ba" (腊八) festival by making a congee historically known as "La Ba Cha" (腊八茶) or "La Ba" congee.
The character 八 ("ba") simply means the number "8", and the character 腊 ("la") is typically associated with the twelfth lunar calendar month and all sorts of cured meats that the ancient Chinese made from the animals they hunted during the winter. These cured meats supplemented their staple foods but were also used as ritual offerings to dead ancestors and demi-gods as a way of expressing gratitude for bumper harvests and hope for a safe, secure and prosperous year ahead. Many older Chinese people typically see this ritual as effectively the end of one year and the start of the next.
Like Eight Treasures Tea, La Ba Congee is made with eight different types of ingredient (some regions used up to 20). These would mainly be pulses, beans and dried fruits if you're making a sweet dessert or meats, mushrooms and other vegetables if you're after something more savoury. The ingredients also vary from region to region.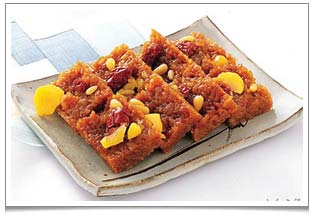 Korean dish
Ba Bao Eight Treasures
rice eaten around the festival of La Ba.
In ancient times the predominant components of La Ba Congee were red mung beans, rice and glutinous rice but nowadays the list can include Chinese dates, chestnuts, peanuts, gingko nuts, lily bulbs, longan fruit, walnuts, almonds, pine nuts, barley, sultanas, soya beans, black beans and even rose petals! Traditionally, on the evening of the 7th day in the 12th month, families start to prepare the La Ba Cha ingredients by soaking or de-shelling. Then at the stroke of midnight, they start to slowly simmer the ingredients till the next morning. At one time this would have been happening even in the Imperial Palace!
The congee is first offered to the ancestors in the underworld, then it's given to friends and families or donated to charity before noon, and only if there is anything leftover after that – which I reckon there usually is! – can the family sit down to enjoy it. Some families also make lion or other animal 'engravings' out of fruit to decorate the congee. Many would deliberately save some extra so has to have some 'remainder' (which represents 'profit' i.e. 'prosperity') in the new year.
Setting the sugar aside, this is a nutritious dish excellent for the cold winter season. The various ingredients in La Ba Cha can nourish the spleen, enhance qi energy, clear the lungs and eyes and has calming, restorative effects.
In Korea, a similar nourishing, rustic, rice dish is prepared and served at around the same tome of year. The Korean version is a pretty dessert based on steamed glutinous rice dotted with chestnuts, pine nuts, dates and a hint of cinnamon.
To balance the slight heaviness of these La Ba dishes why not make a strong brew of a dark oolong, pu erh or Eight Treasures Tea as the perfect accompaniment?
Sweet La Ba Congee
35g Brown Rice
23g Oat
23g Pearl Rice
17g Wheat
12g Buckwheat
10g Green Mung Bean
9g Barley
6g Job's Tear
6g Sorghum Rice
6g Black Glutinous
6g Millet
3g Gordon Euryale Seed
20g Rock Sugar
4 Chinese Red Date
4 Dried Longan Fruit
1.1liter Water

– Gently wash the seeds and grains.
– Add all the ingredients in a claypot.
– Bring to a boil and simmer for 1 hour until grains are cooked. Stir occasionally to make sure it does not stick and burn to bottom of the pot.
– Serve as a late afternoon pick-me-up or as an after-dinner dessert.

Savoury La Ba Congee
100g Glutinous rice
10g Millet
10g Soy beans (soaked overnight)
1 Carrot, cut to small cubes
1 Small Bamboo shoot, cut into small cubes
5-6 Dried shiitake mushrooms, soaked and sliced
5g Mu er 'wood ears' fungus, soaked and sliced
50g Lean Pork Fillet, thinly sliced
Salt

– Cover the soy beans in water and boil for an hour to make the stock.
– Wash the rice and Put into a claypot together with the soy bean, the stock and the rest of the ingredients. Add enough water to cover.
– Cook for about 30-40 minutes before adding salt to taste. Stir occasionally to make sure it does not stick and burn to bottom of the pot.
– Serve piping hot on a cold winter's night!
Warmly,

Pei

~~ Serene and fragrant TEA entices with promise of rapture in STORE ~~